Discover more from Cook Republic
Making vegetables more exciting through sensational salads, fast dinners and yummy lunchbox things! Clever recipes with minimum effort and maximum flavor + stories and inspiration from my Sydney kitchen.
Over 4,000 subscribers
Hello everyone!
This last week has been slightly eventful in terms of work. My big, glorious Mac crashed last weekend and had to be dropped off at the Apple Store to be revived. It houses ALL my active work, my apps, and my photo libraries (thankfully I have a backup but can't do much without a working machine).
It was also my birthday last week, so I decided to take a small little impromptu sabbatical from my daily work duties. Instead, I cooked (for leisure!), I read a whole entire fiction book for the first time in four years and loved it ( The Lost Flower Of Alice Hart - Holly Ringland), I cleaned and organized my pantry and four of my recipe journals, we visited some nice restaurants and cafes to celebrate my 46th - Wild Pear Cafe (charming, produce-driven cafe set in a plant nursery in Dural, home of previous Masterchef winner Larissa Takchi), Totti's (casual Italian chic food in Rozelle, home of the dream-worthy Balloon Bread), Holi Crop (small batch bakery, wholesome plant-based food with Indian influences in Turrumurra) and I enjoyed a really delicious birthday cake from Flour & Stone Bakery.
To round up my impromptu week of fun, I had a delicious Vietnamese/Modern Australian meal at Cash Only Diner with my friends last night. This restaurant focuses on Hue cuisine which is an amalgamation of the North (less sugar and spice, more fresh elements and inspired by Chinese cuisine) and South (sweeter, spicier with more hearty elements like coconut milk). We also visited Papa Gedes Bar (which has sensational cocktails - try the Most Wanted a scrumptious little tiki of gin, coconut and bitters!) and a really lovely hidden bar - Old Mate's Place in the city (where I had a delightful cocktail called Pandan Airways which I suspect was a 24 hour clarified milk concoction!).
Spring is definitely in the air, you can smell the hope in the floral fragrance that reaches you, riding on the hump of a gentle breeze, warm as your breath. I love that feeling, redolent of brighter days and lighter meals. A precursor to crisp white linen shirts and platters full of cold prawns, fresh salads, mangoes and melons and lazy days by the beach.
Daydreaming aside, I have some really lovely recipes for you to try this week before I head to the kitchen to meal prep.
Happy Sunday & Happy Cooking!
Sneh
x
---
What I am Cooking This Week
Today, I only have a couple of hours to prep. I usually start with the freshest thing that has to be eaten straightaway and the rest I cook and store to be used up over the next 4 days of the week. This is what I am cooking,
Green Avocado Salad /
for today
This salad started off more as a game. I had a lot of avocados to use up. Avocados are so pretty and green and I didn't want to tarnish that look so I set out to create a salad using all green-coloured ingredients. Creamy avocados with sweet crisp green apples, crunchy green capsicum, alliums, herbs and spice-toasted green pepitas came together in a tangy, lime salad dressing. So incredibly delicious and it only took 15 minutes. Try this salad, it is so easy to eat by the spoonful!
---
Cook Republic is a reader-supported publication. To receive new posts and support my work, consider becoming a free or paid subscriber.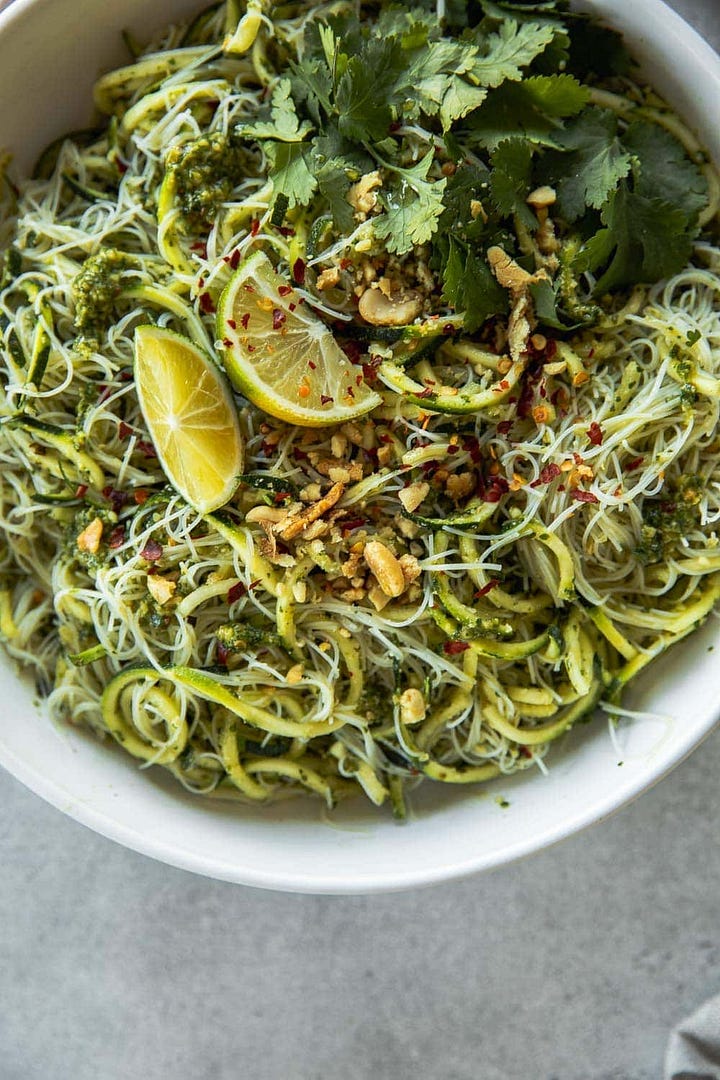 Green Zucchini Rice Noodles With Thai Pesto & Thai Chicken Noodle Salad
These are both quick, fresh, flavourful and easy recipes to meal prep for the week. These will become quick lunches and packed in cold thermos for work and school.
For the Green Zucchini Noodles, I meal prep and spiralize zucchini and make the Thai Pesto. Both keep in the fridge for a few days. When its meal time, all I need to do is cook some rice noodles by just soaking them in a big bowl of hot water for a couple of minutes. That's it! Just toss everything and enjoy.
The Chicken Noodle Salad is a lunchbox favourite. All hard veggies are sliced, shredded and prepped in containers in the fridge. The dressing is prepped and stored in a glass jar. Chicken cooked in a pan, sliced, and stored in containers. All waiting to be mixed in minutes when you need to have this salad!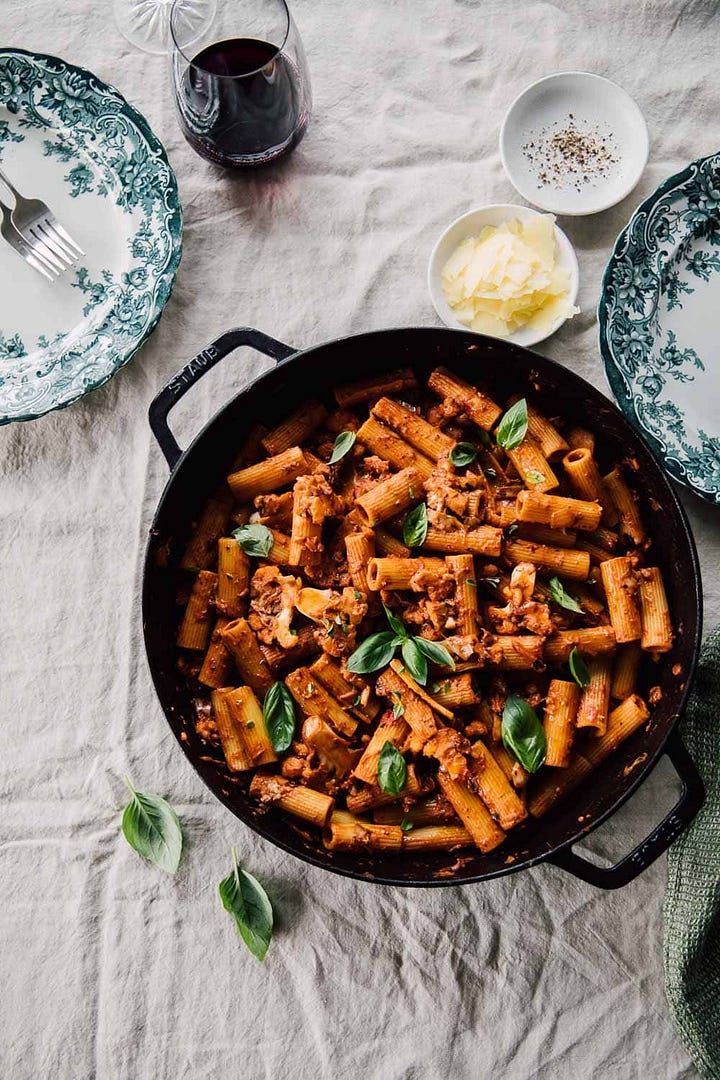 Cauliflower Vodka Alla Pasta & Chickpea Garden Burger
The Cauliflower Vodka Alla Pasta is one of my favourite easy dinners, it comes together in one pan without a fuss. I make the cauliflower sauce and store it in the fridge. When it's dinner time, all I need to do is cook pasta and toss it through!
I cook the burger patty mix in just one pan. Mash it all up in a bowl and form burger patties. I cook them in a pan or grill and then store them in fridge or freezer. Love lunchtimes when all I need to do is reheat the patties and smoosh in a big bun or focaccia with smashed avo, pickled beetroot and onion, a nice pesto, chimichurri, salsa verde, tomato relish, or whatever else I have on hand!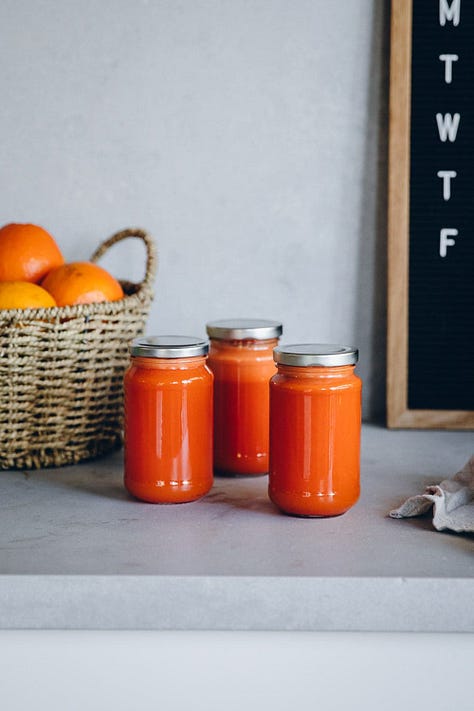 Sun Juice, Happy Smoothie & Pineapple Avocado Smoothie
I recently bought a couple of these fridge trays on Amazon (actually I've bought a lot of different sizes for different things in the fridge). Each of these holds about six or seven 300ml jars of homemade juices and smoothies you see in the pictures above. Every Sunday, I make a variety of colourful smoothies/juices and stock up these trays. The boys (and me!) grab whatever tickles our fancy throughout the week. Most of these keep fresh for up to 3 days but they only last about 2 days in my fridge. At this point, I make more and stock them up again. It is a great way to have more fruit and veg. The boys also use the green or berry smoothies as a starting point for their post-workout smoothies. They'll add protein powder, maca, hemp, acai and all sorts of things for an added boost.
This week, the first stock-up consists of these three - my favourites! An immunity-boosting Sun Juice (packed with carrots, oranges, fresh turmeric, ginger and lemon), a mood-enhancing Happy Smoothie (packed with bananas, cacao, almond, cinnamon and soy) and a creamy delicious Avocado Pineapple Smoothie (packed with avocado, spinach, lime and pineapple)
And finally, something sweet
Blueberry Poppy Seed Snacking Cake & Healthy Chocolate Powerballs
---
Have you signed up for "Live More Veg" yet?
My paid section of this newsletter is filled with delicious, vegetarian recipes for everyday cooking and eating. Fresh, vibrant, produce-driven meals are guaranteed to make you eat more fruit and veg every week. These are the special recipes I have been saving up for my next cookbook and are sent out every week via email. You can also access them all here in one place! If you are able to, please consider a monthly or annual membership! The recipes are worth it!
Thank you to my lovely members for their support and love!
"I made this yesterday - what a revelation!! The super green pesto is divine and even my veg-averse hubby absolutely loved the salad. This will appear on our Christmas menu :)" - Monique on the Supergreen Roasted Potato Salad
"Hey Sneh... so glad I found Cook Republic (via the Eat Your Books cookbook club summaries, by the way). I love how genuine you are, how encouraging and supportive, and I love the thorough, detailed recipes – and how they are packed with flavour! You are so generous with your free newsletters and I really wanted to support you in return. Thanks for all you give to us all. 🙂" - Vicki
---
All Good Things
Watched Fisk Season 1 (Loved it! Reminded me of The Office - dry humour bathed in tongue-in-cheek sarcasm. Kitty Flannagan is as usual wonderful.)
Watched The Summer I Turned Pretty Season 2 (I loved the first season, found the tone of the second season sombre and filled with more of the same interactions and teen angst. Still very enjoyable! Helps to watch this from a mum's perspective.)
Watched Gran Turismo at the movies! We are an F1-mad household and the boys were super interested in watching this. I went in without expectations and was pleasantly surprised by how good this movie was. Based on the incredibly inspiring true story of Jann Mardenborough, a racing gamer who became the youngest winner of GT Academy competition. He beat 90,000 entrants to win a chance to race for real in an actual car in real-world Motosport (having only played Gran Turismo on the Playstation before). The movie had a lot of heart, a lot of nail-biting moments and was absolutely thrilling. A must if your kids like cars and racing.
Very cool roast eggplant hack.
The most incredible work of miniature art I have ever seen.
Matty Acton is brilliant! I really enjoy his hilarious skits. Have you seen Cranky Surgery Receptionist and Passive Aggressive Mother In Law?
Gigantic Moldy Fruit Art.
A handy water drop test to figure out if your steel pan is hot enough.
That's all folks!
See you later this week with another newsletter. Eat well, Be well! x
---